If you're keen on a beer or two then why not try one of the many Oktoberfests held around the UK?
Originating from Munich as a 2 week Volksfest and travelling carnival, the original Oktoberfest attracts 6 million visitors every year. The fun starts with local beers served in steins that range from the more traditional 1 litre, up to the more exuberant 2.5 litres. The theme carries through to the food – think German sausages, pretzels – and finally the dress with Bavarian lederhosen and dirndl adorned visitors absorbing themselves in the party atmosphere. All whilst the oom-pah bands play, entertaining the crowds and encouraging them to dance the night away.
Oktoberfest stems from a party to celebrate a royal wedding. On October 12, 1810, Kronprinz Ludwig (later King Ludwig I of Bavaria) married the Princess Therese of Saxe-Hildburghausen in Munich. The citizens of Munich were invited to attend the wedding festivities held on Theresienwiese (Theresa's Meadow), which had been renamed in honor of the Crown Princess. The celebration proved so popular the town decided to host the party again in 1811. This party eventually became an annual event known to the locals of Munich as Oktoberfest.
If you wonder why it is spelled with a K, it's becuase the month of October is spelled with a K in the German language. Most non-German festivals keep this spelling to honor its German roots.
So, have we got you tempted yet? Then let's find out some of the best Oktoberfest UK venues are and what you can expect to enjoy from these events that have become so popular over here.
Oktoberfests UK
One of the largest organised UK Oktoberfests is, rather aptly, called Oktoberfest. Travelling around 8 cities including Chelmsford, Crawley, Guildford, Milton Keynes, Southend, Beverley, Colchester and Plymouth, the series runs from the 6th of October through until the 28th of October.
Individual tickets start from £15 whilst VIP tickets at £365 for a table of 10 offer waiter service so you can enjoy your beer and food without having to queue.
With afternoon sessions (12pm-5pm) and evening sessions (6pm-11pm) to choose from, you can expect some of the best oom-pah bands in the country, steins of beer and street food traders selling traditional German culinary delights.
They have everything you can expect from a traditional Oktoberfest, focussing on giving everyone a jolly good time. Because that's important, right?
Located in Ealing and Finsbury Square, London Oktoberfest also features a special Halloween date where you can combine local Bavarian costumes with spooktacular accessories. It's a unique twist on the traditional Oktoberfest if you can't decide which celebration takes your fancy more.
One of the largest Oktoberfests, London hosts 50,000 people each year. This one is full of action, atmosphere and enjoyment.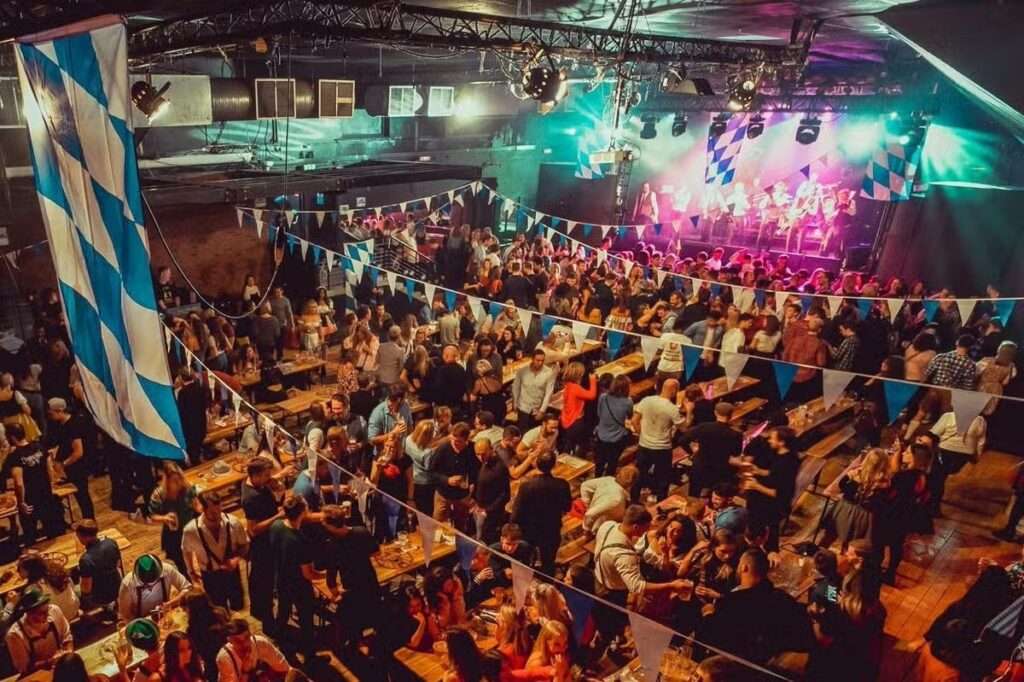 As you might expect, London provides all the tradition you can want from a German beer festival, with live music, dancing and drinking all within the shelter of a huge marquee so you can party away regardless of the weather.
And with entry from just £5 which gets you an unreserved seat at a table then you don't need to spend a fortune to soak up the atmosphere.
Looking for a corporate team building idea? Then Oktoberfest is a great idea, with a table for 8 people including some free drinks and snacks starts at £100. So why not take the team out and enjoy some bonding time over a stein of beer?
And just to prove that they've thought of everything, London recommends a German lederhosen provider so that you can have your outfits shipped to you before the event. Clever, hey?
A 2-day event held on the 13th and 14th of October from Platt Fields Park, a ticket to Manchester's Oktoberfest will cost from £10.
Students can enjoy the treat of a free stein within their ticket prices, and a range of other ticket options are available that include drink and food combinations.
Run by the same team as the London Oktoberfest in Ealing and Finsbury Square, the format, entertainment and prices are pretty similar. The same company also runs Oktoberfest celebrations in Edinburgh.
The event producers know what they're doing here and you'll feel well and truly immersed in the German party scene. It's a real feel-good environment (if you can remember much of it after all that beer!)
Cited as the 'Biggest Bavarian Party in the North', Newcastle Oktoberfest is held over 3 weeks from the 13th to the 28th October in Times Square.
Newcastle does Oktoberfest in style, offering:
– Huge authentic 2000 capacity Bavarian-style beer hall
– 100s of party benches adorned in traditional Bavarian table cloths
– 1000s of steins to fill, to spill, to swill and to drink!
– Some of Europe's best Oompah Bavarian Party bands!
– Bratwurst! CurryWurst! Frankfurters! Pretzels and more! (Inc Vegan & GF Options)
– A great selection of Bavarian wheat Beers, German lagers & huge spirit & cocktail selection!
– Hosts & hostesses in their traditional lederhosen and dirndls & we encourage you to also!
You'll be sure to have a good time. Tickets start from £10 + booking fee.
Held over the 27th and 28th October in Southampton Guildhall Square, this is 'the most EPIC Oktokerfest on the south coast'.
A sellout event in 2022, this Oktoberfest has grown in popularity, catering not just for beer lovers, but offering non-alcoholic drinks and a food court that serves mouth-watering bratwurst, sizzling currywurst, and a delectable variety of Vegan options.
Featuring entertainment in the form of oom-pah music from the Bavarian Strollers as well a a DJ to keep the party alive during the breaks, you won't go bored here.
Tickets start at £10+booking fee.
A 2 day event on the 21st and 22nd of October in Hills Meadow, the Reading Oktoberfest is a friendly affair where you can mingle with locals and appreciate the different beers on offer.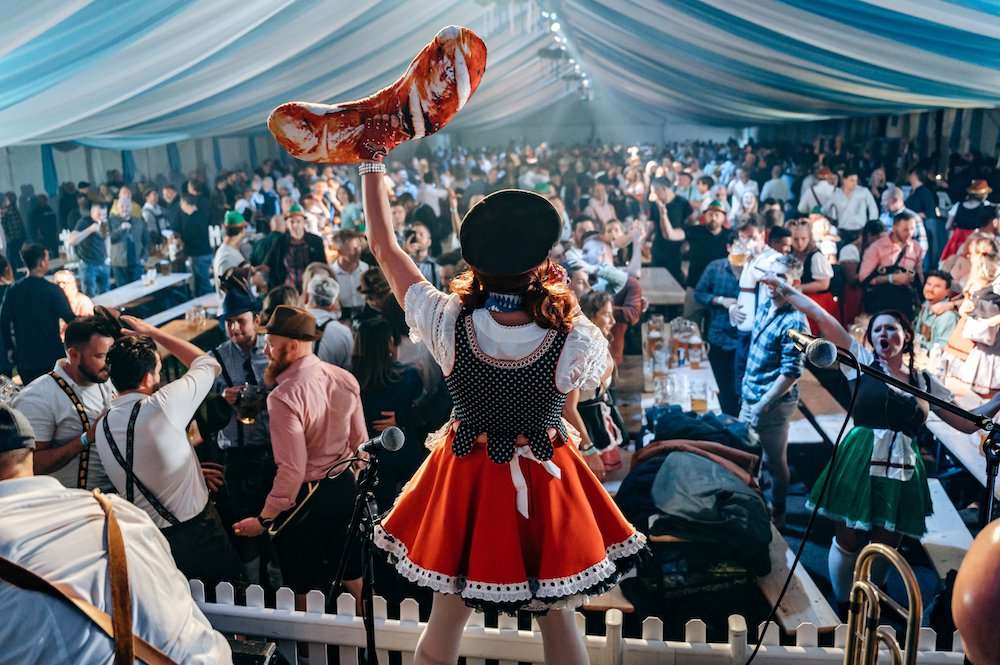 Tickets start at £25.49 and include a complimentary pint of beer, seat and entertainment throughout your session – whether that's from 12-5 or 6-11.
VIP tables can be booked for a maximum of 6 people, however large group bookings (of over 16 people) can be made with the event organiser allowing you to enjoy Oktoberfest as a larger group.
The same organisers also host Oktoberfest Richmond over the 29th and 30th of September, so if you can't wait until October then this is a good one to warm up your Oktoberfest season with.
And lastly, If you like something a bit more permanent and indoors, then the Bierkellers in Liverpool, Manchester, Birmingham, Nottingham and Halifax host Oktoberfest across their venues.
For one magical evening only, you can be transported into the Munich nightlife and imagine you are in a Bavarian dream. Brats, hog rolls, schnitzels, pretzels, kraut and wursts are all encouraged, washed down with the finest German booze.
A £20 ticket includes your reserved table and show admission, and a Stein (cocktail, haus bier or haus cider), mini Jager or Schnapps, and a delicious super-sized Pretzel.
Conclusion
There's nothing not to love about immersing yourself in a bit of Bavarian culture. It's not only the beer, bratwurst and pretzels that make it special, it's the atmosphere that makes it such a great experience.
Regardless of where you are based, visiting Oktoberfest UK is well worth it.
About Wireless Solutions
Wireless Solutions delivers internet connectivity and wifi solutions for events and production teams across the UK. We enable smooth payment transactions and communications across event sites, working with some of the largest and most complex requirements. If you need temporary event WiFi then we'd be happy to help. Contact us at info@wireless.solutions.