The UK hosts a huge range of food events and festivals throughout the year. Born out of our love for culinary delights, and our thirst for socialising and fun, food events and festivals have grown in size, number and quality – particularly in recent years.
The recent comeback of festivals and events is seeing a new era of street food traders and vendors. And they're better than excellent.
No longer is it about a bunch of stalls in a marquee giving you free tasters in the hope that you'll buy. It's about food competitions, shows, music entertainment and even merchandise – all added on top of quality food and drink traders.
So, if you're after an awesome day out, great food and a rush of endorphins, why not give one a try?
Here we share our top UK food festivals, having worked at some of them to provide the event WiFi, and others from recommendations from the people we meet on the scene.
The world's largest chicken wing festival, Wingfest goes well beyond the chicken wing itself. Started up by chicken farmer Rich as a small event with around 300 people, the flagship London event now welcomes around 15,000-20,000 people through its gates over the 2 days.
With over 30 chicken wing traders you can explore everything from the Indian to Malaysian wings, the trademark buffalo wings and more.
But the event, produced by the brilliant Gorilla Events team, is so much more than chicken wings. Its lava wing competition is a spectacle worthy of a TV series itself. 10 unsuspecting victims of the hottest chicken wings known is a very entertaining watch.
With live shows, DJs and entertainment to fill your day whilst eating the best chicken wings and a beer in your hand, what could possibly be a better day out? Oh and you get a free cap too which is a nice touch.
Held in cities across the country, you can find a Wingfest that's local to you, and if you want to do it in style then the VIP ticket at £150 allows you to beat the queues and have unlimited chicken wings brought to your table.
Standard tickets start at £18.50 with the evenings being for over 18s only. After about 6pm the beer can start to take its toll on the fair few.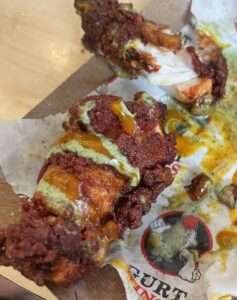 Founded by Jamie Oliver and Alex James, this family-friendly festival combines food, music, and fun activities.
It features top chefs, live music performances, and a variety of food and drink stalls. The 2023 headline acts are Sigrid, Tom Grennan and Blossoms, supported by some classics like Rick Astley, the Lightning Seeds, Mel C and Natalie Imbruglia among others.
And if you've come for the food then no less than 29 top chefs in 2023 include Nathan Outlaw, Asma Khan, Lisa Goodwin-Allen and George Egg. Adult day ticket prices start from £93.50 with plenty of upgrade options available.
We've never heard a bad word about the weekend, so if you're up for some family fun then this one could have something for everyone.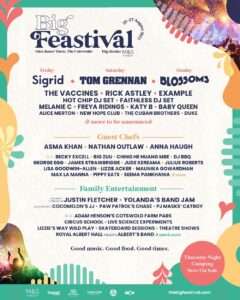 Held in Regents Park in June each year, Taste of London brings together 36 of the City's best restaurants in one place.
You can eat your way around a world full of flavours and deliciousness in a single day. Visitors can sample dishes from top chefs and enjoy various food-related activities like learning how to make a decent coffee, try your hand at Portuguese-inspired cuisine and much more.
With tickets from £24 it's well worth the visit if you're in the area. You'll find your taste buds inspired!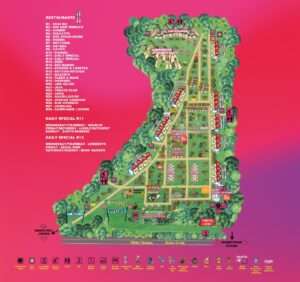 Started up by Tom Kerridge in Marlow, Pub in the Park has expanded to Chiswick and St Albans.
Ticket prices from £47.50 offer you the opportunity to celebrate everything there is to love about the glorious British pub; delicious food, award-winning chefs, epic live music, delicious drinks but above all else a fantastic time with friends and family.
Afternoon sessions are perfect for a chilled one with your mates (or the kids) and the evening sessions are made for those who want to party. The lineup of chefs includes some of Tom's best mates, who just happen to be the best in the business. Expect to see some of the hottest new names in the food world, TV favourites, and some highly-acclaimed Michelin-Starred heroes. 2023 welcomes Ainsley Harriot, Si King from the Hairy Bikers, Ed Gamble and Nisha Katona.
Their award-winning pubs and restaurants 'pop-up' around each park serving tasting dishes for you to get stuck into – from local favourites to far-flung nationally-renowned eateries that you might not have the opportunity to pay a visit!
Claiming to be the largest food and music festival on tour in the UK, they've obviously done something right here to attract so many people.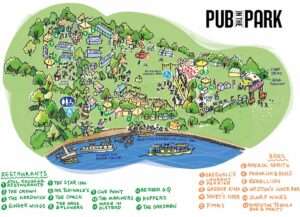 If you're a lover of BBQs then Smoke & Fire Festival is one for you.
With 2 events held in August in Ascot and Essex, the event celebrates everything you can make around a fire pit. Including the open free style BBQ championship, new additions to 2023 include Louisiana crayfish, The Professor (6 times BBQ champion) on the art of smoking, Red Dog Saloon from the USA and Aussie Rib Eye Steaks.
But it's not all about the food, there's entertainment galore with soul-style live music, open-fire masterclasses and live stage demonstrations. It's a celebration of everything South American with a worldwide presence. With Adult day tickets starting at £20.83 it's accessible to everyone.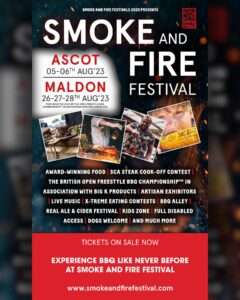 So these are our top recommendations for food festivals if you're looking for something new to try. So plan your trips and have a great time!